STRENGTH TRAINING & SPORTS SCIENCE SEMINAR WITH PROF. DR. DR. DIETMAR SCHMIDTBLEICHER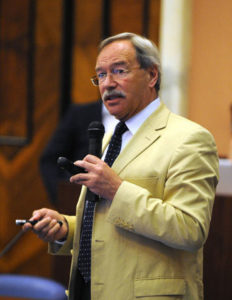 DATE : September 21 @ 10:00 – 18:00
PRICE : Early bird (until August 31) – 997 PLN or 235 EUR
REGULAR PRICE : Starting September 1 – 1147 PLN or 270 EUR
WHERE: Strength and Conditioning Education Center, Ul. Orlowska 86, 81-542 Gdynia, Poland
This post is written in english, since this SCEC Seminar will be held in english.
Prof Dr. Dr. Dietmar Schmidtbleicher is a sports science pioneer, one of the most renowned sports scientists in the world and will hold a one-day seminar on strength training from the point of view of sports science. He is one of the most important sports scientists in the field of strength training of our time and has published more than 460 articles in various publications and specialist magazines between 1977 and 2015. He is a leading expert for strength and power training especially for top-level athletes as well as for patients with problems in postural control and gait.
Since 1991 he has held a chair at the Goethe University in Frankfurt am Main in the field of sports science. Main topics in his work are strength and power training, neuronal and muscular adaptations after training, diagnostics and regulation of training and the development of measurement devices. Furthermore he developed a method for training in high performance sports and rehabilitation using stochastic resonance. Prof. Schmidtbleicher was President of the Board of Directors of the Federal Institute of Sport Science for over 12 years, Honorary President of the European Interdisciplinary Society for Clinical and Sports Applications and a referee in 8 national and international journals.
His work on strength training and strength qualities specifically in the area of maximal strength, explosive strength and speed has had a great influence on personal trainers and strength coaches worldwide, especially in North America. He also wrote one of the most famous quotes of strength training – "Maximal Strength is the Mother of all Strength Qualities".
The aim of this seminar is to provide an insight into the basic principles of strength training in sports science, as well as an outlook on the most important and latest findings and their integration into training in order to increase training progress.
THE CONTENTS OF THE SEMINAR:
– The scientific fundamentals of strength training in sport
– The individual qualities of strength and their relevance in everyday life – maximal strength, explosive strength and strength endurance.
– The neurophysiological control and regulation mechanisms in strength training
– The influence of maximal strength training on movement speed
– The functional significance of the stretch-shortening-cycle and stretch-reflex in sprinting and jumping
– Modern tendencies in strength training and sports science in discussion – Blood Flow Restriction/Occlusion Training, Flossing, EMS and more.
Course Conductor:
Prof. Dr. Dr. Dietmar Schmidtbleicher